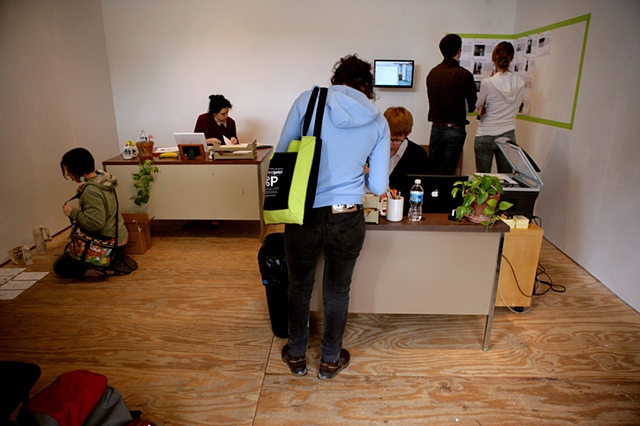 ART CRITIC LORI WAXMAN GUARANTEES BRIEF, SERIOUS REVIEWS TO ALL ARTISTS ON A FIRST-COME, FIRST-SERVED BASIS.
The short review is at once a challenge, an insult, a record, and a piece of advertising. Its purpose is debatable and arguably quite different for the various parties involved: the writer gets a tear sheet, a couple of bucks, and some editorial gratification; the reader, in the best case scenario, gets a succinct, opinionated description of a body of work they probably did not see in person; and the artist gets published recognition and an entry for their bibliography. But think, for a moment, of the artist who has been reviewed carelessly, who has never been reviewed, who lives in a city where there is little local criticism…
Installed in various venues throughout the U.S., critic Lori Waxman receives artists in need of reviews. Reviews are scheduled and written in twenty minute increments between the announced hours only. Reviews are signed, published, and ready for pick-up within the time frame of the performance. Artist, artwork, critic, and review all exist in the same space simultaneously.
Reviews are free of charge, and are guaranteed to take the artist and artwork seriously. Critics are not meant to be cheerleaders or educators or advertisers; they are opinionated, thoughtful, informed commentators. Or so they try.
UPCOMING PERFORMANCES:
CANCELLED March 17-19, 2023, in Cleveland OH, hosted by ATNSC: Center for Healing & Creative Leadership CANCELLED
October 19-21, 2023, in Philadelphia PA, hosted by Artblog
ARE YOU AN ARTIST WHOSE WORK HAS BEEN IMPACTED BY THE COVID-19 PANDEMIC?
The "60 wrd/min art critic" is reviewing shows that have been cancelled, postponed, shuttered, made remote, and opened only by limited appointment, as well as art made during quarantine. Reviews are written in the order in which requests are received, free of charge, while the critic herself remains in isolation. Completed reviews are published here and on Newcity. Previously, reviews were published on The Quarantine Times.
More information is available here. To request a review, email critic@60wrdmin.org.
ARE YOU A FOREIGN ARTIST? DO YOU NEED A REVIEW FOR YOUR O-1 VISA APPLICATION?
The "60 wrd/min art critic" is available. Reviews are free of charge and will be written at the Co-Prosperity Sphere on February 1, 2020, from 5-10 PM, and on Feb 15 and 22 from 3-8 PM.
Completed reviews will be published in the April issue of Lumpen, and will remain on view throughout the duration of Li-Ming Hu: DISCOmbobulation.
To schedule an appointment, email critic@60wrdmin.org.
Press in New City
OUT NOW: Lori Waxman's new book, Keep Walking Intently: The Ambulatory Art of the Surrealists, the Situationist International and Fluxus from Sternberg Press, Berlin. Available in the U.S. from amazon.com and at local bookstores.
OUT NOW: THE 60/WRD MIN ART CRITIC BOOK. SEE ONESTAR PRESS WEBSITE FOR DETAILS.
The 60 wrd/min art critic is funded by a Warhol Foundation | Creative Capital Arts Writers Grant